Hi Pretties
Well it's that time of the week again. The weekend is coming to an end and it's time for my Sunday night haul blog! I promise you this one has been a big one!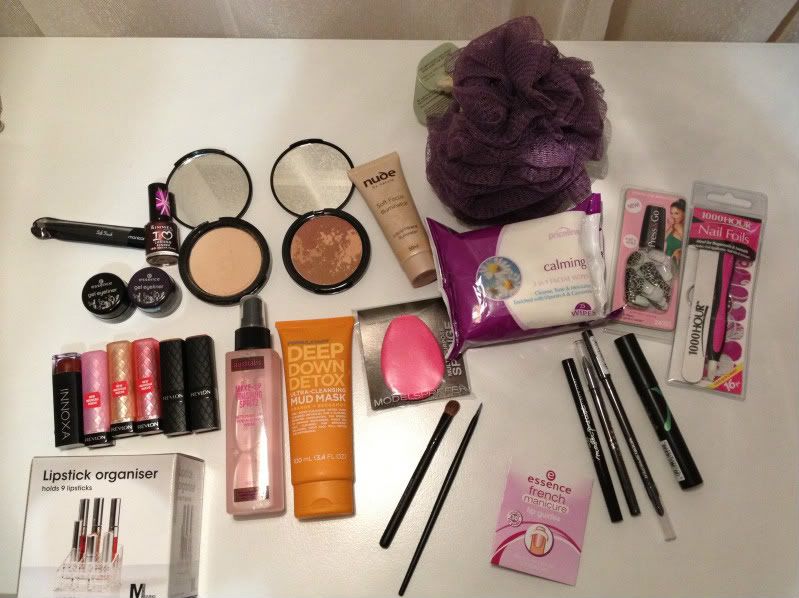 Now I must admit, I didn't actually buy everything here. If you read my Priceline gift with purchase blog post earlier this week, you will see that a very large portion I actually received in that bag.
Products from Priceline gift with purchase bag
Eco Tools - 100% recycled plastic bath sponge in purple. This is nice and soft
Nude By Nature - Soft focus illuminator
Models Prefer Multi purpose sponge in hot pink
Rimmel - I love lasting finish nail polish in 185 Mocha Fever (I already own this colour)
1000 Hour - Nail Foils in a purple/silver patterned colour
Manicare - Soft Touch Tweezers
Covergirl - $10 off card (not pictured)
Revlon - Colour Burst lipstick in 035 Blush
Innoxia - Lovely Lips lipstick in Honeysuckle
Australis - Paparazzi Perfect High Definition blush in Poser
Press and Go - Nails in a zebra type pattern
Natio - Mineral pressed powder in Soft Tan
Priceline - Calming facial wipes
Max Factor - Xperience Volumising Mascara in black
Models Prefer - Kohl pencil in matte black
Savvy by DB - Luxury Liner in Shimmering Slate
Below are this weeks actual purchases;
As you can see, its still not a bad haul. I did buy most things on special too, so I got some bargains. I am actually now on a spending ban for the next three weeks. So no hauls :( But I will be going to Melbourne in a couple of weeks so I'm saving my pennies!
Products I purchased
Revlon - Lip Butter in 055 Cupcake
Revlon - Lip Butter in 095 Creme Brule
Revlon - Lip Butter in 090 Sweet Tart
Revlon - Color Burst lipstick in 070 Soft Nude
Australis - Make Up Finishing Spritz
Essence - Gel eye liner in 01 Midnight in Paris (black)
Essence - Gel eye liner in 03 Berlin Rocks (purple)
Formula 10.06 - Deep Down Detox Ultra Cleansing Mud Mask
Modern Living - Lipstick organiser (I bought 4 of these and they hold 9 each)
Maybelline- Master Precise liquid liner
Models Prefer - MP24 small eyeshadow brush
Essence - Angeled eye liner brush
Essence - French manicure tips
For years I have only used crayon eye liners and I'm being a little adventurous a the moment and have branched out and bought a liquid liner and the gel liners. I LOVE the gel liner. I got the black for $5.95 and the purple for $3 and I think they are fabulous. Maybe a little too much for everyday, I think I'll use the Maybelline liquid eye liner for during the day but the gel just seems to give my eyes that little extra pop.
I bought another Models Prefer brush. I'm actually getting up quite a collection of these now and I think they are great value for money. I don't think I have paid full price for any of them and I haven't paid any more than $15 for my most expensive brush which was the bronzer brush. I think this one was around $11?
I spoke in my skin care routine blog post about trying the 10.06 masks in the sachets and I liked them so much I bought the full sized product while it was 20% off at Priceline. I think it was down to $7.
So as you can see, I purchased 4 Revlon lip products. Now I refuse to pay full price for Revlon lipsticks. I think the price is ridiculous and rather than pay $22 a lipstick I'd rather pay that little bit extra and get a Mac lipstick or something (another reason I love Rimmel lipsticks so much, they are so cheap!), but when Priceline had their 2 for 1 special on, I thought it was time to stock up on the lip butters and the nude I have been lusting after for a long time. I'm pretty pleased with the lip butters. I don't find Creme Brule to be overly moisturising, but it is a nude and that's generally the case with nudes. I think the Color Burst lipstick in Soft Nude is much more moisturising that Creme Brule actually, but the pinks are great. I now have 4 lip butters. Hurray!
I showed you my make up storage last week and I have actually now added some lipstick organisation to my vanity and given my blushes their own drawer in my big pink case. They are all very happy in their new homes! The lipstick holders were $5 at Target and I purchased 4 of them as I forgot to count my lipsticks before I went. I do have a whole holder spare at the moment now. I'm very happy with these holders as they seem to be a lot better quality than the Priceline ones, but much cheaper.
So anyway I'll leave there with my Sunday night haul. No hauls for three weeks. Ahhh so long with no new products but I do have loads of new things to play with :)
What did you haul this week?